Dakota Stones Spring 2014 China Trip 
| | |
| --- | --- |
| | |
Dakota Stones Spring 2014 China Trip

 

 

Part 1 Changes in the market

  

Every year I travel to China to work with our factory partners on new and existing products. I enjoy experimenting with new rough material to see how it translates into beads or pendants at the production level. Often, amazing looking rough will not work in a small format like beads while other materials will surprise you when you cut through it to expose colors and patterns that were not before apparent. Working directly in the factory allows us to bring to fruition the ideas we dreamed up in our office.  

 

 

 

In the last few years finding new materials has become more challenging as quite a few changes are taking place in China. Three of the largest stone bead factories have closed their doors and stopped production due to escalating costs. While, many of the smaller cutters are shifting their product focus to the rapidly growing Chinese market. Both of these factors are changing how we are handling our production and working with our cutters. This year Dakota Stones will be introducing a lot of specialty products and stone types that are exclusive to us and only available in limited runs. We are working directly with individual artists and cutters to design and manufacture specialty strands right on site. Look for these unique and limited products to be released on

dakotastones.com

.




Dakota Stones 2014 China Trip
Part 2: Changes in the Market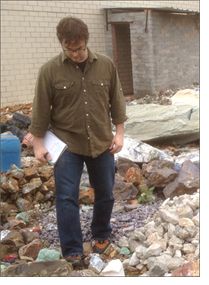 In my
first post
I illustrated the quickly changing landscape of the stone production market in China and indicated that it may be a good idea to adjust the pricing of your existing stone jewelry line. Well, I'm back to update you on more changes taking place and offer you my opinion of how these changes could affect the North American and European semi-precious stone market.

Since my earlier post I have discovered that India has suspended a major part of their stone cutting industry. Historically, India has been responsible for manufacturing more delicate hand cut shapes like the briolette and small faceted roundels/rondelles in higher priced materials- Ruby, Sapphire, Emerald and all the translucent gems. The industry in India operates differently from China whereas China has numerous factories supplying the independently manufacturing beads- India is controlled by a select few major owners that control the rough material and use tiny independent cutters to make the beads to be distributed by trading companies. I suspect the slowing of production is an attempt to let supply and demand stabilize as existing stock is sold. It will be interesting to see if India is ever able to get production levels back up as the current cutters will leave the industry for other work. 
At this point I am seeing many of the factories abandoning the less expensive stone types- the Jaspers, Agates and rock Quartz in favor of higher grade materials - Citrine, Amethyst, Ruby and the like. The quality of stone beads on the market has been steadily going up. The move to higher grade materials is to combat the lack of workers and steadily increasing wages. The 2nd trend in manufacturing is moving to all machine cut and drilled shapes like rounds- where a single worker and machine can work on 100 beads at a time instead of a one to one ratio.
So, how does this affect you, your business and your jewelry? As the cost of labor, shipping and materials continues to rise- so will prices. There is still a lot of existing ready stock on the market- I have seen warehouses full of bead strands. But fashion jewelry is a fickle industry that knows what it wants and demands new and interesting all the time. If the ready stock doesn't work with the new trend, then the ready stock isn't what we will be buying.

What we are doing? Dakota Stones is working to make sure we can source and manufacture our existing product lines as well as innovate and introduce new products to keep your design options fresh and current. Probably because, like you, we are a small groups of artists and creatives that appreciate the distractions of creating the next shiny rock to chase.